Do You Have A Cone Crusher Project We Can Help With?
Hydralic Cone Crusher
Feed size of the cone crusher ≤326mm
Production capacity: 72-1100t/h
Applicable materials: iron ore, basalt, granite, cobblestone, limestone, quartzite, river pebble, diabase, etc.
According to your needs, we can provide tailor-made services to help you quickly start the road to wealth.
Applicable materials: cobblestone, limestone, basalt, granite, marble, calcite, river stone, etc.
| Type | Cone Diameter(mm) | Max Feeding Size(mm) | Discharging Port Size(mm) | Spindle Speed (r/min) | Motor Power(kw) | Capacity(t/h) |
| --- | --- | --- | --- | --- | --- | --- |
| HP300 | 910 | 83 | 9-22 | 580 | 75 | 48-96 |
| HP400 | 1200 | 127 | 9-31 | 485 | 110 | 68-192 |
| HP500 | 1395 | 155 | 25-65 | 485 | 220 | 180-290 |
| HP600 | 1650 | 188 | 16-35 | 485 | 250 | 186-332 |
Type
Cone Diameter(mm)
Cavity Type
Max Feeding Size(mm)
Discharging Port Size(mm)
Spindle Speed (r/min)
Motor Power(kw)
Capacity(t/h)
C75
910
Fine

Coarse

83

159

9-22

13-38

580
75
49-51

59-163

C110
1200
Fine

Coarse

127

178

9-31

19-51

485
110
63-188

141-308

C160
1290
Fine

Coarse

109

216

13-31

19-51

485
160
109-181

172-349

C220
1395
Fine

Coarse

155

230

25-65

19-45

485
220
180-285

230-570

C250
1650
Fine

Coarse

188

241

16-38

25-64

485
250
181-327

299-635

C315
2134
Fine

Coarse

253

334

19-38

31-64

485
315
281-726

789-1270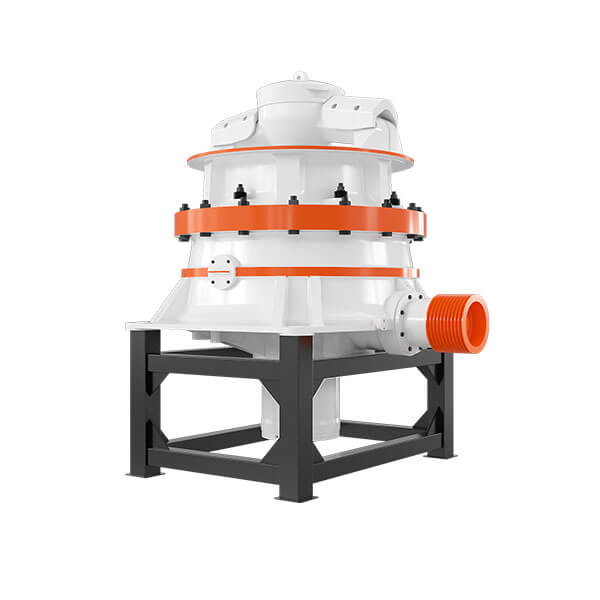 Single Cylinder Cone Crusher
Production capacity: 27-1050t/h.
Feeding size: according to the model motor power: 90-315kw.
The single-cylinder hydraulic cone crusher adopts advanced crushing technology and is high-performance crushing equipment integrating mechanical, hydraulic, electrical, and intelligent control technologies.
The hydraulic cone crusher is mainly used in the second and third stages of crushing of ore and rock processing. It has the advantages of high crushing efficiency, low production cost, simple structure, and convenient adjustment and maintenance.
Technical parameters of SC single-cylinder cone crusher:
Type
Cavity Type
Feeding Port Size(mm)
Max. Feeding Size(mm)
Min. Discharge Size(mm)
Motor Power(kw)
Capacity(t/h)
C100
C1

C2

250

200

200

160

22

19

90
85-170

70-130

C160
C1

C2

360

300

290

240

25

22

160
125-345

108-305

C250
C1

C2

450

400

360

320

35

29

250
267-605

225-515

C315
C1

C2

560

500

450

400

41

38

315
349-1050

318-892
Advantages of Cone Crusher
Cone Crusher Working Principle
When working, the motor passes through the V-belt, the large pulley, the transmission shaft, and the small bevel gear. The large bevel gear drives the eccentric sleeve to rotate, and the axis of the crushing cone rotates and swings under the force of the eccentric shaft sleeve, so that the surface of the crushing wall sometimes approaches and sometimes leaves the wall surface, so that the material is in the annular crushing cavity composed of the fixed cone and the moving cone. The inside is constantly shattered by impacts, squeezing, and bending. After many times of extrusion, impact and bending, the material is crushed to the required particle size and discharged through the lower port.
5 Points Help You Know Cone Crusher More
The cone crusher machine classification, which one is the best?
Cone crusher is mainly divided into hydraulic cone crusher, spring cone crusher, and compound cone crusher.
Hydraulic cone crusher is divided into single hydraulic cone crusher and multi-cylinder hydraulic cone crusher.
Single cylinder hydraulic cone crusher is more advanced, the maximum output can reach 2100 t/h.
Full hydraulic cone crusher is on the basis of the spring cone crusher process is improved, the capacity is larger than the traditional one, more cost-effective.
Multi-cylinder hydraulic cone stone crusher is mainly used for fine crushing series, which can produce high-quality sand aggregate.
Multi-cylinder Hydraulic Cone Crusher
Compared with the multi-cylinder hydraulic cone crusher, the single one only has a hydraulic cylinder and a nitrogen auxiliary cylinder.
Single hydraulic cone crusher structure is more refined, has a stronger production capacity, easy to maintain.
Single cone crusher overload protection performance is superior, easy to realize automatic control, suitable for strict requirements on product grain shape, high degree of automation of sand production line, divided into medium and fine crushing.
For medium hard, high hard stone, usually use a multi-cylinder hydraulic cone crusher.
In fine crushing, for medium hard stone, the multi-cylinder cone crusher will be better.
In general, the higher the hardness of the rock, the greater the difference between single-cylinder and multi-cylinder operations.
For ordinary hard stone, the full hydraulic cone crusher is more cost-effective.
2. How about cone crusher price?
How much does it cost to buy a cone crusher machine? 5 factors determine the cone crusher price.
Cost
What is your budget?
The degree of automation is also one of the main factors affecting the price, we will adjust your solution when the communication process.
After reasonable analysis and discussion, customize the best solution for you.
Model
Different models, different specifications, will lead to different configurations, the price will be different.
Quality
The quality of cone crusher determines its service life.
Many factories attract customers to buy at the lowest price, and there will always be uncontrollable quality problems after purchase, which is annoying.
You also need to consider cone crusher quality, it can make more economic value.
Supply-demand relationship
Only when the supply-demand relationship reaches a balance point, It's important that the price meets your needs.
Other factors
The market, raw materials, freight, and so on will also affect the cone crusher price.
In the purchase of cone crusher, more comparison, understand the market to have a cheap cone crusher.
3. The difference between cone crusher, impact crusher, and impact sand making machine.
The different crushers used, the crushing effect is not the same, some finished shape looks beautiful, some high efficiency, some more energy-saving and so on.
a. Different working principles
b. Different capacity
The hydrocone crusher capacity at 27-2100t/h, power 70-750kW.
The impact crusher capacity at 30-800t/h, power 37-710kW.
The sand making machine capacity at 12-650t/h, power is 37-500KW.
It can be seen that the crushing efficiency of cone crusher is greater than impact crusher, and the impact crusher efficiency is greater than sand making machine.
c. The quality of finished products is different
Different crushing methods, crushing effect is not the same.
If you require a uniform particle size of the finished product, the sand making machine is the king, followed by the impact crusher, and finally is cone crusher.
d. Different uses
Impact sand making crusher processing feed ≤30-55mm, crushing coarse, medium, fine sand, mostly used for sand making, soft and hard stone can be processed.
Impact crusher processing feed ≤300-800mm, you can according to your need to adjust the discharge mouth, mostly used for stone crushing, soft stone crushing efficiency is higher.
Cone rock crusher processing feed ≤35-560mm, you can according to your need to adjust the discharge mouth, mainly used for stone crushing, hard stone high efficiency, low component loss, often used in large stone factories, concentrator crushing.
4. HP300, HP400, HP500 cone crusher for sale
HP cone crusher is the most popular model, how do you choose gravel crusher cone?
The secondary cone crusher is used for high-hardness stone crushing sand production, with low production cost, strong crushing ability, high crushing efficiency, and good product quality.
If you want a small cone crusher, the HP200 cone crusher can meet your needs.
Hp300 cone crusher capacity at 48-96t/h.
Hp400 cone crusher capacity at 68-192t/h.
Hp500 cone crusher capacity at 180-290t/h.
We also have some small cone crushers for sale, welcome to inquiry.
5. Cone Crusher Manufacturer
As a professional cone crusher manufacturer, we have 15 years of manufacturing experience in the manufacture of different crushers and can customize various solutions for you.
"Keep learning" makes us better. If you want to learn more, you also can refer to "cone crusher Wikipedia".
The cone crusher can be matched with a dry mortar plant to produce more dry mortars and create more profit.
There are also some stock and used cone crushers for sale, if you are interested, feel free to contact us now.
Contact Us to Boom Your Cone Crusher Project