Rotary Sand Dryer Machine For Sale
Sand dryer, like its name, is generally used to dry sand, the water content of the dried material can reach 1-0.5% or less. Cooperate with a dry mortar production line, can greatly improve the production efficiency of dry mortar.
Rotary sand dryer machines can dry all kinds of sand, like silica sand, quartz sand, so it is also called silica sand dryer, quartz sand dryer in the industry.
The FUREIN machinery can customize dryers with different models and outputs for you. Generally, the output we support is 1ton to 30 tons per hour. Of course, about the fuel system, we can also customize it for you, such as natural gas, diesel, or biomass.
This rotary drum sand dryer is also widely used in sand, cement plant slag, clay, coal, mixture, iron powder, building materials, chemical industry, casting, and other industries.
What Is Sand Dryer Machine?
Sand in dryer refers to particles with a particle size of 0.074 to 2 mm formed by the weathering of rocks and scoured by rainwater.
There are many types of sand, including river sand, sea sand, metal sand, silica sand, etc., which usually have a certain water content.
Sand dryer, like its name, is a machine that dries sand.
The dried sand can be used to make building materials, such as concrete, wall putty, dry mortar, etc. You can see it everywhere in life The story about sand has a wide range of applications.
Wonderful Sand Dryer Design
The sand dryer design of scientific and reasonable energy-saving.
The material is heated in the form of radiation, convection, and conduction between the inner cylinder and the hot air flow.
In contrast, the heat in the outer cylinder is heated in the form of conduction and convection. The sand in dryer has high thermal efficiency and a remarkable energy-saving effect.
After testing, the thermal efficiency is much more than the traditional dryer's 50%.
Support coal, oil, natural gas, biomass, and other raw materials. You can choose the most suitable according to your convenience.
In addition to drying sand, it can also dry clay, coal, slag, iron powder, silica, quartz, etc.
It can also dry other bulk materials used in metallurgy, chemical industry, etc.
Rotary Sand Drying Machine Features
Adopt frequency conversion speed regulation, adjust the cylinder speed according to the sand water content, production requirements, and adopt the appropriate speed to ensure that it meets the process's requirements. An automatic temperature monitoring system makes the operation more convenient.
It is very energy-saving. After testing, the three-pass rotary sand dryer machine saves coal and electricity, and the investment is small. The investment cost is 20% of that of imported equipment.
Three tapered cylinders with the same taper, different sizes, and lengths are interlocked, and the drying efficiency is exceptionally high.
The use of excellent, high temperature resistant, wear-resistant rails and a unique sink design significantly improve the service life and stability of the host.
The sand dryer machine can be customized according to your output, materials, budget, etc., to make the sand dryer more suitable for you.
Triple Pass Sand Dryer Machine Parameter
At present, the sand drying models are FU623, FU625, FU6210, FU6220 and customized models. Capacity from 1ton to 15 tons or even 30tons.
If you want more parameters, such as power, size of dryer, burner, and other parameters of information, please contact our technicians or leave a message.
| Model | Capacity |
| --- | --- |
| M623 | 3t/h |
| M625 | 5t/h |
| M6210 | 10t/h |
| M6220 | 15t/h |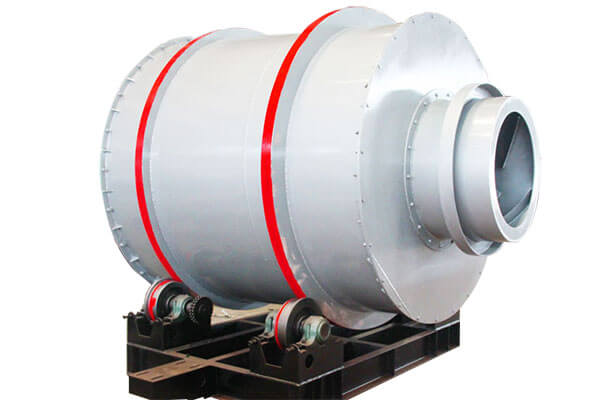 Rotary Sand Dryer Machine For Sale
Do You Need A Sand Drying Plant?
If your sand is more than 5% water, we recommend you choose a rotary sand dryer. It can help you get revenue as quickly as possible.
Three-layer rotary design, good drying effect, also called it energy-saving triple pass sand dryer.
The sand drying machine improves the thermal efficiency by more than 40% than the traditional single-cylinder dryer
The sand dryer machine is made of a wear-resistant manganese plate, which is 3-4 times more wear-resistant than an ordinary steel plate.
The discharging temperature is less than 60 degrees, can be directly into the warehouse, without cooling.
How Does A Rotary Sand Dryer Work?
The river sand dryer is used for drying all kinds of sand and granular materials. Wide operating range, small footprint, strong practicability, and large processing range are very popular.
So what are the parts of the sand dryer machine?
The sand drying plant is mainly composed of disc feeders, belt conveyors, main dryers, hot blast stoves, blowers, vibrating screens, and dust removal systems.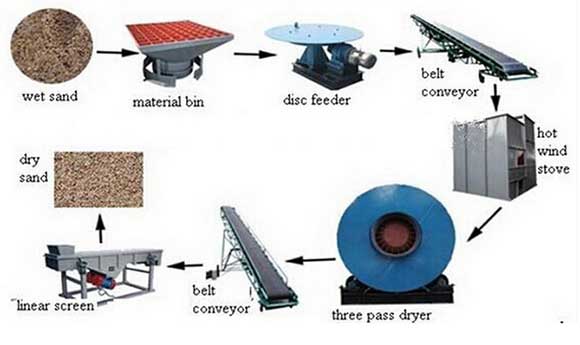 Then, how does a rotary sand dryer machine work?
First, Feed wet sand.
The wet sand enters the disc feeder and falls evenly on the belt conveyor.
Enter the belt conveyor, supply a large amount of wet sand, and enter the drying stage.
The wet sand enters the main dryer machine, and the central dryer blows hot air from a hot blast stove for drying sand.
The central sand dryer is technologically advanced, with one-layer drum feeding, two-layer drum returning, and three-layer drum discharging, the core of the technology.
The dry sand flows out evenly.
Of course, you can also watch the working video of the rotary sand dryer machine on the right.
What fuel should I use?
The fuel choice for sand dryers typically includes diesel, natural gas, and electricity. The determining factor for selecting a specific fuel is usually the cost efficiency in your region.
Sand Drying Plant Successful Cases
The small sand dryer output is 2-3 tons/hour installed in india, the whole sand drying plant is an integrated structure, no installation, no infrastructure. Reliable operation, flexible operation, and strong adaptability.
Environmental protection design, using cyclone dust removal and water dust removal.

The sand dryer adopts a Q345 steel plate, which is resistant to high temperature, abrasion, and long life.

The sealing performance is good, the three cones are interlocked, and the heat energy is fully utilized.

The moisture content of the material is 20%, and the moisture content after drying is 0.5%.

1-2 workers are required.

The discharge temperature is less than 40 degrees, and it can be directly entered into the warehouse.

It is suitable for drying river sand, sea sand, quartz sand, silicon hydride, and other granular high-temperature-resistant materials with good fluidity.
Sand Drying Equipment Working Site In Thailand
Sand drying equipment has a high degree of automation, high production, energy-saving, environmental protection, uniform particles, no impurities, no dust. Sand dryer for sale has a wide range of uses, a wide range of sales, and high profits. It has low investment and high returns.
How To Choose A Reliable Rotary Sand Dryer Manufacturer?
There are many rotary dryer manufacturers in the market. Henan is a gathering place for sand dryer production, so how to choose a reliable supplier?
You can shop around, each supplier will provide you with a parameter table, pay attention, be sure to compare the details of each parameter to prevent shoddy, don't just look at the price, if you trust us, our technicians will free advice for you.
Why Choose FUREIN Machinery Rotary  Sand Dryer Machine?
FUREIN Machinery have advanced drying technology
Fast drying at high temperature, multi-ring drum nesting structure, high drying strength, long residence time of materials in the drying chamber, and greatly increased output.
High degree of automation of sand dryers on sale
Separate drying control system realizes automatic control of product quality.
The sand drying machine cost is low, as the factory directly gives you the wholesale price
Using high-efficiency hot air stove, high temperature and rapid drying, the thermal efficiency can be increased by 20-45%, at 20 degrees normal temperature, drying 1 ton of sand, using less than 8 kg of coal, greatly reducing the cost.
Long service life than others
The use of clean hot air to directly contact the river sand instead of heating the cylinder with fire avoids deformation and burning of the cylinder. In addition, the cylinder has a slower speed, which greatly increases the service life.
Why Is The Three-pass Sand Drying Machine So Popular?
As a sand dryers manufacturer, there are small, medium, large and customized types. The material is made of special steel. After post-polishing, welding, painting, and other treatments, the service life is extended.
In the process of focusing on manufacturing, the introduction of foreign advanced sand dryer technology, combined with market demand, makes the dryer design more environmentally friendly, energy-saving and efficient.
It can be used in a wider range. In addition to drying sand, it can also dry materials of 1cm-200 mesh and 0.5mm-200 mesh.
The entire operation is safer, simpler, highly automated, easy to use, and only requires feeding and discharging.
The design is reasonable, the disc feeder is used when feeding, and the feeding is at a constant speed, reducing the uneven manual feeding.
When the material is conveyed to the dryer host through the belt, the reverse flow type is adopted, and the wet material is not blocked, thrown, or scattered, so as to achieve mechanical automation.
In addition, inside the drying drum, the three layers are matched, and the layers are matched with almost zero gaps, so that the materials can flow in, dry, and flow better. Special heat treatment is used at the top and tail of the dryer. more convenient. When the material is discharged, the temperature of the sand is lowered, and it is not easy to scald the workers.
Get A Price of Sand Dryer Machine Now