Dry Mix Mortar Production Line
With low investment, quick return, you are the ideal choice.
A precise machine cannot be built without strict inspection. And we focus on high-quality machines
Do You Have A Dry Mortar Production Line Project We Can Help With?
Dry Mortar Production Line
Dry mortar production line can be used in the production of cement-based mortar, stone-based mortar, masonry mortar, bonding mortar, plaster mortar, special mortar, self-leveling, tile adhesive, wall putty, etc.
4 Types Dry Mix Mortar Production Line
Semi-automatic dry mix mortar production line output is 1-10t/h, can be said to be small output, big return, very suitable for small and medium-sized investors.
Here we list three best-selling dry mix mortar plants.  The larger the mixer, the higher the output.
What Makes Up Dry Mix Mortar Production Line?
Dry mix mortar production line with an annual capacity of 200,000 tons, you can choose whether to increase crushing and drying equipment according to your needs.
This is a fully automatic dry mortar mixing machine, which uses PLC computer control, high automation, and anytime, anywhere, while increasing efficiency, ensuring the smoothness of personnel communication.
Let's have a look at the parts of this production line?
Dry mortar production line with an annual output of 200,000 tons.
1. Storage system:
Dry-mixed mortar machine for storage of cement, sand, fly ash, etc., we usually call it "cement silo", which can be pumped to the cement silo by an air pump, without increasing bucket elevator.
Of course, you can also choose to use a bucket elevator to transport materials into the cement silo.
The top dust removal device of the cement silo absorbs the dust and protects the working environment. The cone portion of the cement silo is equipped with a pneumatic device, which can effectively prevent cement, and fly ash so that the material keeps smoothly.
2. Drying system:
This sand drying plant is used to dry sand, and this sand drying line contains a hot-blast stove, sand dryer, screening machine, dust collector, conveyor, etc. Three-pass rotary dryer can make full use of heat sources, and quickly dry the sand.
3. Batching system:
This dry-mixing mortar machine is automatically completed. It is accumulated weighing. If there are three materials such as sand, cement, and additives, ie weighing systems to set the ratio of each material in advance, first complete the weighing of the sand, then complete the weighing of the cement, and finally the weighing of the additive. The accuracy of weighing is as high as 99.5%, ensuring the quality of the dry powder mortar.
4. Double-shaft dry mortar mixer:
The non-gravity dry mortar mixer is one of the highlights of the entire production line. It can be mixed quickly, with no dead angle, high efficiency, and fast equipment. The materials can be mixed evenly for around 2 minutes per batch.
The finished product can be packed in bags or in bulk according to your need. Now the palletizer is very popular and can help you improve efficiency.
6. Dust removal system:
The dust removal system is generally installed at the discharge port of the packing machine, which can effectively collect dust and keep the air clean. The pulse dust collector has high dust removal efficiency and long service life.
7. Control system:
Using a computer, PLC control, an intuitive operation, it can be arbitrarily adjusted, accurate control, error automatic correction.
Better Configuration Makes Your Dry Mortar Production Line Stronger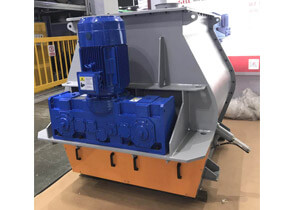 There are two counter-rotating blades in the barrel of the double shaft mixer. The blades overlap and form a certain Angle. The blades rotate and throw the materials to the spatial flow layer, resulting in instant weightlessness and falling into each other's area.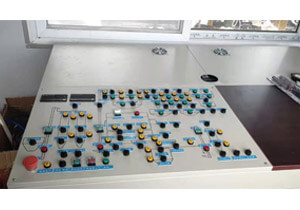 Independently developed double computer synchronous production management intelligent control system, saving labor cost. Monitor and control product quality online. With fault warning, multiple guarantees to keep your equipment from shutting down.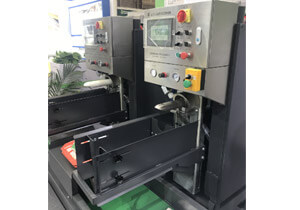 Automatic packaging, palletizing and packaging production line, to meet the needs of large special mortar production; Equipped with air valve port packing machine, impeller valve port packing machine, ton bag packing machine, a variety of combination forms to meet the packaging needs of different mortar.
Bulk expansion joint can effectively prevent the segregation of finished mortar in loading, improve loading efficiency, reduce energy consumption, bulk expansion function can efficiently and conveniently import the finished mortar in the finished product warehouse into the bulk mortar tank car, improve the mortar utilization rate.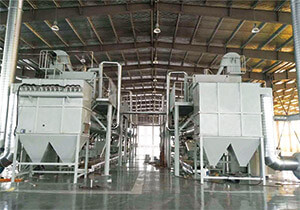 Pulse dust collector uses the filter bag to filter the dust so that the dust-containing airflow can be purified. When the dust accumulates on the filter bag to a certain extent, the filter bag is sprayed and cleaned by means of compressed air in the form of a pulse.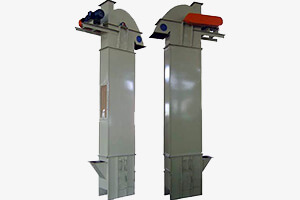 NE type plate chain bucket elevator using flow loading, gravity inertia unloading, lifting material temperature below 250C.Suitable for vertical conveying granular and powdery materials, widely used in building materials, metallurgy, coal and other industries.
Contact Us to Boom Your Project
Learn More Cases