Do You Have A Ready Mix Plaster Plant Project We Can Help With?
Premix Plaster Plant Introduction:
The ready mix plaster plant is specially designed for plaster mortar. It has a certain adhesive property.
The gypsum mortar is mainly used for leveling the inner walls of various buildings.
In addition, it can also produce other dry mortar and special mortars.
We support a variety of production lines in the output of 1-100t/h, as well as semi-automatic and automatic production lines, you can choose according to your own needs.
Full Auto Ready Mix Plaster Plant
The ready mix plaster annual capacity is about 300,000 tons. It is two dry mortar mixers working at the same time.
An automatic ready mix plaster plant is designed on the basis of a semi-automatic production line according to the characteristics of plastering gypsum.
Equipped with an automatic batching system, double shaft paddle mixer, and conveying system; The main production raw materials can be bulk cement and fly ash, directly into the detachable cement silo, saving manpower, improve production efficiency, with automatic feeding, automatic batching, automatic packaging, and other features.
Fully automatic ready mix plaster plant requires sufficient space and a certain investment budget, or you are a local manufacturer of construction materials.
Semi-auto Ready Mix Plaster Plant
The improved ready mix plaster plant production line can produce not only plaster mortar, but also other dry mortars.
Advantages: simple operation, small footprint, 2-3 workers, high material mixing uniformity, high production efficiency, it is the most cost-effective powder mixing production equipment.
Main configuration: Bucket elevator, gypsum mortar mixer, finished product bin, automatic packaging machine, dust collector, platform support, electrical control cabinet, etc.
If you are just stepping into this industry and have a limited investment budget, you can choose a small ready mix mortar production line.
Details of Premix Plaster Plant
Ready mix plaster plant is a set of equipment used to produce ready-mixed plaster – a construction material. It is also called a ready mix mortar plant. The most common product is gypsum plaster, but you can also obtain lime, cement, and other types of plasters. Ready mix plaster plant production line mainly includes the following components: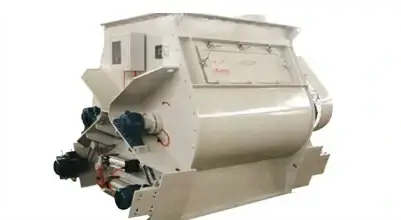 Mixing system
Double-axis paddle type gravity-free mixer for premix plaster plant, uniform mixing, automatic feeding, pneumatic discharge.
Control system
PLC control system of ready mix mortar plant, the operation of each piece of equipment is clear at a glance; the operation is simpler.
Dust removal system
Pulse bag type dust collector of ready mix plaster plant, recover dust, high dust removal efficiency.
Conveying and lifting system
There are horizontal spiral conveyors and plate chain elevators; the process is closed, neat and environmental protection.
Packaging system
Adopt valve bag packaging machine of ready mix mortar plant, computer measurement, accurate weighing, with dust removal port, reduce human body hazard.
Parameter of Ready Mix Plaster Plant
The main parameters of the premix plaster plant are listed here for your reference. Don't hesitate to contact us if you need more accurate parameters. We have a professional technical team that can provide free drawings, solutions, ready mix plaster plant cost, etc.
| Model | FU600 | FU1200 | FU2000 | FU3000 |
| --- | --- | --- | --- | --- |
| Capacity | 5-10 t/h | 10-20 t/h | 20-40 t/h | 40-60 t/h |
| Mixer | FU600 | FU1200 | FU2000 | FU3000 |
| Power | 15 kw | 30 kw | 37 kw | 55 kw |
| High Speed End | two-pole (7.5kW),four-pole(5.5kW)(optional) | two-pole (7.5kW),four-pole(5.5kW)(optional) | two-pole (7.5kW),four-pole(5.5kW)(optional) | two-pole (7.5kW),four-pole(5.5kW)(optional) |
| Volume Fraction of Mixer | 70% | 70% | 70% | 70% |
| Aggregate Size | 0-1.18 mm | 0-1.18 mm | 0-1.18 mm | 0-1.18 mm |
Advantages of Ready Mix Mortar Production Line
How Much Does Ready Mix Plaster Plant Cost?
A small

ready mix

plaster plant costs about 4000-6000 USD. The capacity at 1-8t/h.
A semi-automatic ready mix plaster plant costs 8000-30000 USD, with a capacity of up to 30t/h.
A fully automatic premix plaster plant costs 20,000-50,000 US dollars. The capacity will be up to 60t/h.
A Ready Mix Plaster Plant Sent To Oman
Three containers of ready-mix mortar plant will be shipped to Oman soon. The ready-mix mortar plant is expected to be shipped from our factory to Oman today. The government of Oman has ordered premix plaster equipment to help improve the efficiency of concrete production in the country. Ready mix mortar equipment is widely used in construction sites worldwide, especially in developed countries such as America and Japan.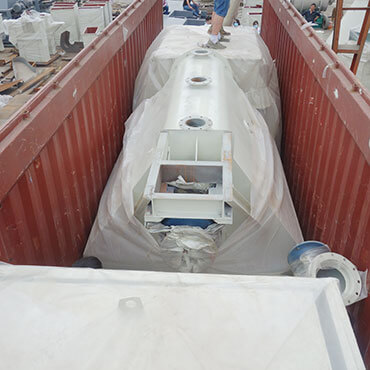 Cases
Ready Mix Plaster Plant Working Site In Xinxiang, Henan province.
Double-shaft dry mortar mixer, the main body is a double-layer tower structure, with a pre-mixed bin, which can make the production process more consistent and improve production efficiency.
The raw material lift by bucket elevator, which is characterized by low wear, fast lifting speed, and low failure rate. The material flows from top to bottom and relies on gravity to greatly reduce energy consumption.
Ready Mix Plaster Plant Working Site In Wuhan.
The ready mix plaster plant is mainly composed of weighing hopper, small material metering, mortar mixer, bucket elevator, gypsum conveying device, finished product silo, valve port packaging machine, electronic control console, dust collector, automatic batching system (optional), automatic palletizing system (optional) and double-layer steel platform.
Ready Mix Plaster Plant With Gypsum Calcination Line
The ready mix plaster mortar is also of great significance for the construction industry in future development. Plaster mortar production line can realize continuous operation, requiring high automation and large output. From crushing, screening, drying to automatic raw material metering, automatic mixing, automatic packaging, automatic bulk material, the use of microcomputer control can realize continuous mass production, so that the products are strictly controlled in accordance with the formula, reducing human errors and ensuring product quality stability.
Contact Us To Get A Solution Now
More Case You May Interested In