Dry Mix Mortar Machine
The dry mix mortar machine can produce many dry mortars, such as tile adhesive, wall putty, ready mix mortar, and most of the bonding mortar, repair mortar, masonry mortar, and so on.
According to your output, you can choose a paddle belt mixer or double shaft weightless dry mortar mixer. The whole production line has a high degree of automation, which can realize automatic feeding, automatic discharging, automatic packaging, and can also be connected to a palletizer.  This is a real high-return dry mix mortar machine.  
Dry Mortar Mixer Machine
Ribbon Mixer Machine
Real Stone Paint Mixer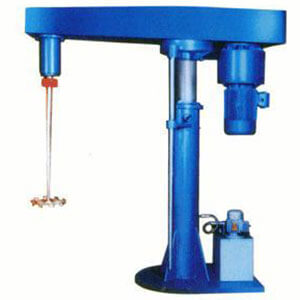 High Speed Dispersion Machine
Dry Mix Mortar Machine: The Ultimate FAQ Guide
1.What is dry mix mortar?
Dry mix mortar can also be called dry mixed mortar. It is a mixed building material. Different additives can have different characteristics. It is dry and easy to store. When you need it, you can use it by adding water and mixing.
2. What kind of mortar can be produced by dry mix mortar machine?
In construction machinery, all dry mixing mortar can be achieved through this dry mix mortar machine, the most common is tile adhesive, wall putty, plaster, skim coat mortar, etc.
3. How Do You Make Dry Mix Mortar?
By the dry mix mortar machine like the following:
Type 1: Simple Dry Mix Mortar Machine
Production capacity is less than 10t/h
The ribbon dry mortar mixer machine models are M500, M1000, M2000, M3000, M5000, and the uniformity of the mixture can reach 99.8%.
According to your different needs, we can customize different solutions for you. Whether you are a large factory or just beginning to get involved in the building materials industry, we can tailor a solution for you.
1-6t/h dry mortar machine
Type 2: Dry Mix Mortar Production Line
The dry mix mortar machine site was built in Saudi Arabia in 2019.
The annual output can reach 300,000 tons.
This dry mix mortar production line is mainly composed of raw material storage silos, chain bucket elevators, screw conveyors, double shaft non-gravity mixers and automatic valve packaging machines, etc.
This type of dry mix mortar machine can produce dry mortars, waterproof material, wall putty mortar, skim coat mortar, tile adhesive, etc.
The dry mortar mixing machine is a custom-made solution for Saudi customers.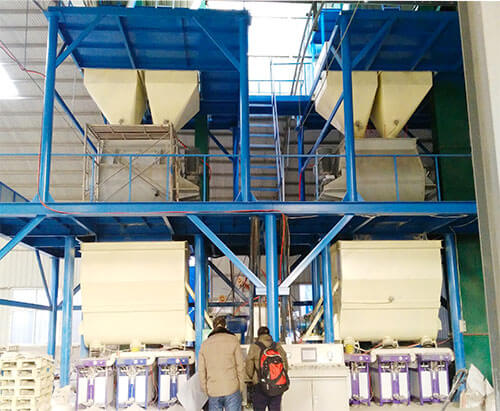 300,000tons dry mortar machine
Type 3: Dry Mix Mortar Plant
A new dry mortar plant working site in Bolivia
The annual output is about 200,000 tons
This PLC control system of dry mortar mixing machine can choose semi-automatic and fully automatic control
The weighing system and packaging system are fully automated
Our company has been focusing on R&D and manufacturing dry mix mortar machines for 15+ years, and can customize excellent dry mortar solutions for you.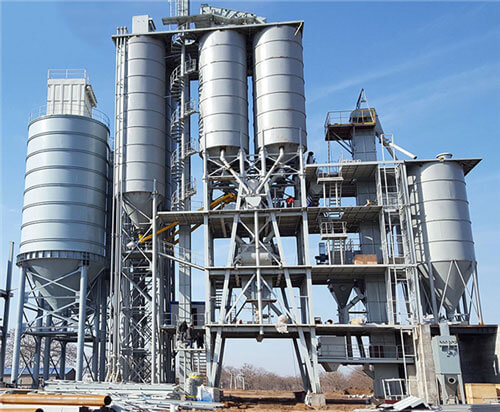 200,000tons dry mix mortar machine
4. What components of automatic dry mix mortar machine?
Dry mix plant usually consists of five systems: raw material storage system, mixing system, packaging system, control system, dedust system, etc.
5. How does a dry mix mortar mixer working?
6. Could you please send me a quotation with the price of each device marked?
There is no problem at all. Please contact us to get a quotation, which will include the size of the dry mortar mixer, the power of all motors, the thickness of materials, the packing size, payment terms and so on.
7. What kind of reducer is used in a dry mortar mixer machine?
As a dry mix mortar machine manufacturer, there are two reducers in the ribbon mixer machine, one is a cycloid reducer and the other is a gear reducer
The biggest difference between the two is cycloid reducer in the use of small noise, and gear reducer is more long service life, gear reducer price is slightly higher than cycloid reducer.
For a double shaft weightless dry mortar mixer, the direct-connected reducer is used. It has one inlet and two outlets, which can keep the speed of the blade synchronized. Its life is twice that of the chain type, and there is almost no maintenance problem in the later stage.
8. Are you also a cement silo manufacturer?
Yes, we are cement silo manufacturer. Because the cement storage silo is big and inconvenient to transport, we have a custom-made detachable cement silo for you, A sheet cement silo can save transportation space better, and it will be installed when it reaches your country. It saves you money.
9. How to use dry mix mortar?
When you buy dry pack mortar, add water and use it to repair your walls like the following video.
10. What is dry pack mortar?
Dry pack mortar, as the name suggests, is dry mix mortar packed in bags for easy transportation, like the picture below.
And you can go to Youtube to find more resources.