Screw Conveyor Manufacturer
We can make different types of screw conveyors.
As a screw conveyors manufacturer, we can produce horizontal screw conveyors, vertical screw conveyors, inclined screw conveyors, tubular screw conveyors, etc.
It is also widely used in dry mortar production lines, concrete batching plants,s or cement silos.
Types of Screw Conveyor
According to structure and use of the screw conveyor can be divided into 4 types: tubular screw conveyor, inclined screw conveyor, horizontal screw conveyor, shaftless screw conveyor.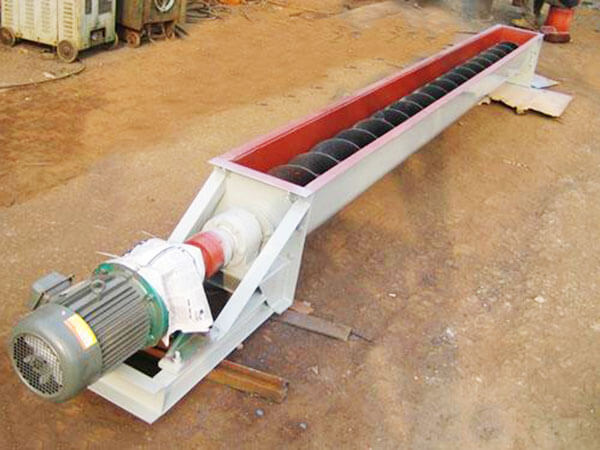 Horizontal Screw Conveyor
4 Types of Screw Conveyor
Type 1: Tubular Screw Conveyor 
If your material is far from the destination, the tubular screw conveyor needs to be lengthened, which may affect the material throughput, conveying speed.
In order to improve the length of the screw conveyor, screw conveyor manufacturers designed the tubular one, it uses a new type of suspended middle hanging bearing frame, increases the material transport space, reduces the logistics long-distance transmission resistance, coupled with small diameter, high speed, variable pitch design, to ensure smooth, fast, uniform feeding.
Type 2: Inclined Screw Conveyor
Inclined screw conveyor angle is generally less than 45 degrees, if you have special requirements, you can be require customized a screw conveyor.
It should be noted that with the increase of the tilt degree, the gravity of the conveyor will increase, leading to the reduction of transmission efficiency, the solution is to increase the motor power or pipe wall thickness.
Type 3: Horizontal Screw Conveyor 
Horizontal screw conveyor generally uses a "U" shaped trough.
When the conveyor is working, the material enters the feeding port from one and discharges material from the discharging port.
Its characteristic is suitable for a large amount of material, or mixed material conveying, and horizontal screw conveyor for low speed, short distance conveying.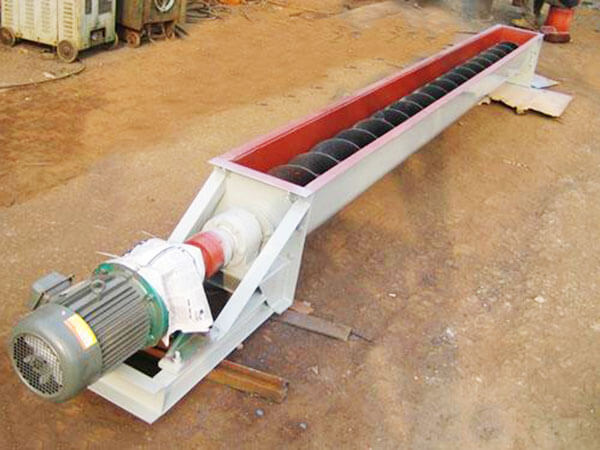 Type 4: Shaftless Screw Conveyor
Shaftless screw conveyor with no central shaft design, increase the material conveying area, so that it is difficult to transport the material easy transport, shaftless screw conveyor is suitable for conveying high water content, sticky, winding bulk materials.
Screw Conveyor Manufacturer
1.Rigorous management mode
After more than 10 years of development, we have explored the appropriate management model, "simple, efficient, responsible" is the direction of our efforts. Always put the product quality in the first place.
2. Perfect production system
From raw material procurement, production, testing, finished product warehousing to after-sales, all according to the standard operation.
3. Strong research and development strength
We have a strong team of r&d engineers and have obtained dozens of patent certificates.
4. Reliable product quality
Screw conveyor can pass iso9001:2001 quality system certification, CE certification.
5. Fast delivery
Delivery within 7 days after receipt of payment.