Belt Conveyor Manufacturer In China
Belt Conveyor Manufacturer
FUREIN Strength
Belt conveyor manufacturers can customize belt conveyors according to your needs, whether mining conveyors or mobile belt conveyors.
Provide you with a serious belt conveyor through CE, optimized 3D drawings, up to 10 years of after-sales service.
Escort your belt machine, bring more income, save time cost!
As a professional belt conveyor manufacturer, we focus on the production of belt conveyors and common accessories.
Long life of belt conveyor.
24 hours online service, belt conveyor manufacturers 2 years warranty.
Belt Conveyor Advantages
Strong conveying capacity, long conveying distance, and smooth conveying.
Simple structure, easy maintenance, long life.
Low cost, strong versatility.
Realize programmatic control and automatic operation.
Less energy consumption, lightweight.
Low starting power, can start directly with a full load.
High conveying capacity, customizable.
Technical Parameters from Belt Conveyor Manufacturer
| Length | 15m | 30m | 45m | 60m | 100m | 150m | 200m | 300m |
| --- | --- | --- | --- | --- | --- | --- | --- | --- |
| Width 500mm | 1.0 | 1.3 | 1.7 | 2.0 | 3.2 | 4.6 | 8.0 | 11.1 |
| Width 650mm | 1.3 | 1.9 | 2.4 | 2.8 | 4.6 | 9.2 | 11.5 | 16.0 |
| Width 800mm | 1.9 | 2.9 | 3.6 | 4.3 | 9.7 | 14.0 | 17.5 | 24.3 |
Belt Conveyor Components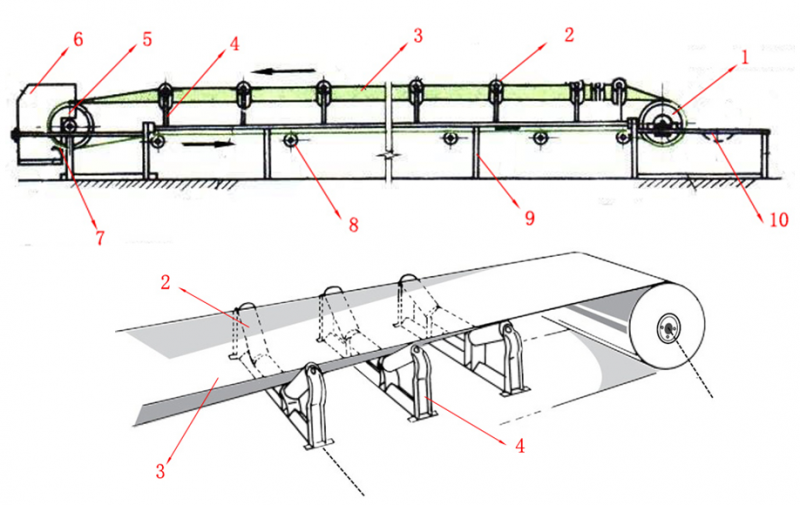 1. Turnabout Roller
2. Upper Roller
3. Conveyor Belt
4. Roller support
5. Driving Roller
6. Motor and Reducer
7. Belt Scraper
8. Below Roller
9. Frame
10. Screw take-up device
Types of Conveyor Belt
The belt conveyor is common conveying equipment. It can be used in a variety of industries, such as the steel industry, aluminum industry, machinery industry, toy factory, printing, and so on.
You can choose the straight line, incline conveyor, mobile belt conveyor, magnetic conveyor, or angled conveyor according to your needs.
Commonly used belt materials are rubber, PVG, PU, PVC, and other materials. Belt conveyor manufacturer FUREIN mainly consists of rubber tape. Other belt materials can be customized as required.
The inner core of the rubber belt is mainly made of wire rope core, nylon (NN), and canvas core.
The advantages of rubber conveyor belts are heat resistance, high-temperature resistance, acid and alkali resistance, cold resistance, wear resistance, flame retardant, tear resistance, and so on. The working environment shall be between -15℃ and 40℃, and the material temperature shall not exceed 50℃.
Wire rope core belt has the advantages of high strength, small elongation, large transportation capacity, long service life, safe operation, etc., It is most advantageous for long-distance transportation.
Nylon (NN), cotton canvas (CC56), or polyester canvas (EP) as the core, good elasticity, small elongation, with good chemical corrosion resistance. Suitable for chemical plants, fertilizer plants, paper mills, and other industries. Also can be used for sea salt.
How To Choose A Conveyor Belt?
When you choose a belt conveyor manufacturer, we hope you consider the following 5 factors:
Belt conveyor length, width, height;
Choose the right type, such as horizontal belt conveyor, incline conveyor, flat slope (with platform) belt conveyor, turning conveyor, etc.;
Material and thickness of conveyor belt;
Belt conveyor accessories.
Warranty & wearing parts, etc.