Stone Crusher Plant
What is component of the stone crusher plant? It needs to choose according to the size of raw material particle size, hardness, output, finished stone demand, and your investment budget, etc.
Stone crusher plant mainly includes jaw stone crusher, impact stone crusher, cone stone crusher, and hammer stone crusher.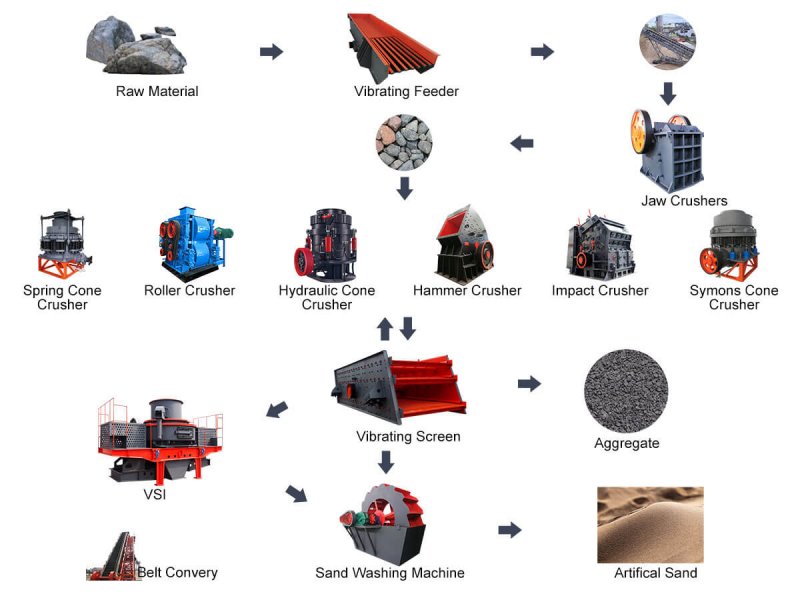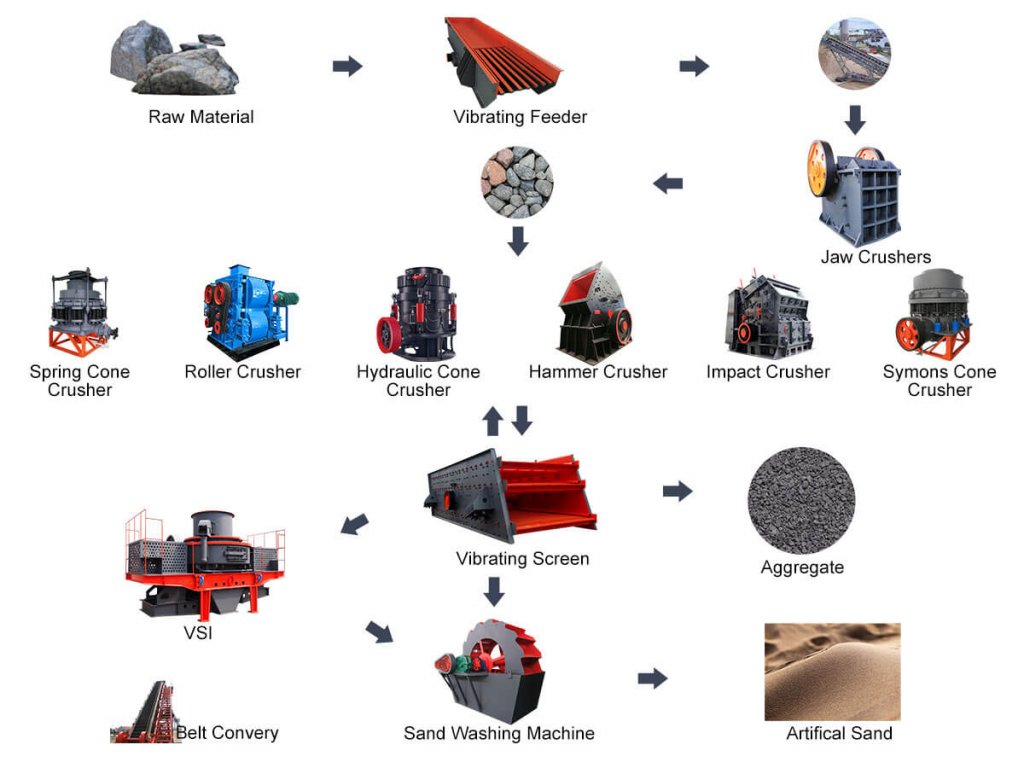 Working Principle of Stone Crusher Plant
The stones will be screened first, divided into large and small size stones.
Large size stones are transported to the jaw crusher through the belt conveyor for preliminary crushing, that is, we usually say the first crushing.
Small size stones by belt conveyor to the secondary crusher, we can see that the secondary crushing there are a lot of crushers can choose, you can choose according to their own needs suitable stone crusher, of course, if you hesitate how to choose the stone crusher machine, you can contact us to get free solutions, no matter whether you buy from us crusher.
After the second crushing (jaw crusher), some stone size reached the standard we set, some stone size is obviously not so ideal.
After screening by the vibrating screen, the qualified stones will enter the sand-making machine and sand washing machine through the belt conveyor, and eventually become clean and perfect sand.
After the screening of the vibrating screen, the unqualified stone will be re-crushed through the belt conveyor into the secondary crusher until the size of the stone meets our requirements.
Of course, after the stone crushing plant, you can also according to their own needs to connect dry mix mortar plant, concrete mixing plant, and others you need.
Advantages of Stone Crusher Plant
Working Site of Stone Crushing Plant

Granite Stone Crushing Plant
Iron Ore Stone Crushing Plant

Stone Crushing Plant For Sale In Pakistan
Stone Crusher Plant
Stone crusher plant, also known as sand crushing production line, is composed of a variety of equipment, we have 50+ engineers to develop solutions for you, to help you reduce costs by at least 20%, the stone crushing line adopts PLC control system, the finished product grain shape is good.
The stone crusher plant is suitable for limestone, basalt, granite, pebbles and other stone crusher processing, the quality of finished products is higher than the international industry standard, for highway, railway, water conservancy, concrete mixing station, and other industries to provide a qualified aggregate.
Di Hai
Quarries are mainly large stone broken to different degrees, and then the crushed materials are used in infrastructure construction, such as roads, railways, Bridges, housing construction, etc., the demand for stone is large, and
Di Hai
Granite as a high hardness material stone, for its crushing, generally chooses a crusher with high compressive strength. For granite material, recommend jaw crusher, cone crusher, mobile crusher, these are suitable for granite crusher,
Di Hai
Construction waste crusher Capacity:85-650t/h. Application: construction site, sand factory, housing construction, and other construction waste crushing. At present, more than 80% of construction waste is waste concrete, bricks, mortar, and other construction materials, which