The ribbon mortar mixer adopts three layers of spiral belt mixing.
The ribbon mortar mixer is a new type of dry powder material mixing equipment, which is the most suitable for the dry powder material mixing process. It has the advantages of high efficiency, high output, and low energy consumption.
Fast speed can mix the material of 1:10000 ratio evenly in the shortest time.
High output, 1 ton of material is usually mixed in 3 minutes, and it only takes 5 minutes from feeding to discharging a batch of material.
One machine is multi-purpose; it can mix all kinds of powder and granular materials, such as dry powder, putty powder, concrete, cement mortar, fly ash, stone paint, flour, feed, food, chemicals, etc.
Easy to clean.
The ribbon mortar mixer is simple in structure, has easy operation and maintenance, has low requirements for plant space, is small in volume, and is lightweight.
The ribbon mortar mixer is easy to operate and maintain, which saves human resources and reduces labor costs.
Details of Ribbon Mortar Mixer
The composition of the spiral ribbon mortar mixer:
The ribbon mortar mixer mainly comprises a mixing drum, motor, reducer, coupling and steel support. The sealing system has good air tightness to ensure the product does not leak.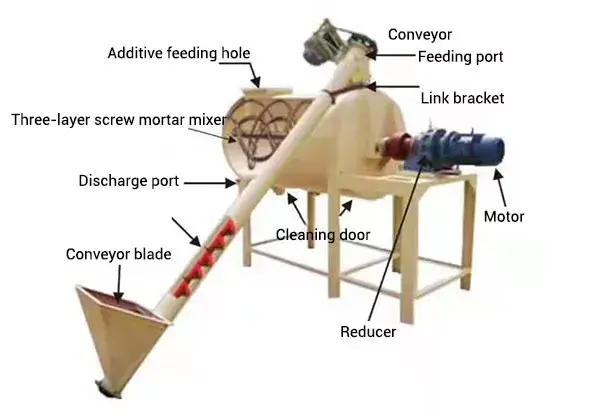 Three-layer spiral ribbon mortar mixer:
The ribbon mortar mixer adopts double "S"-shaped paddles, thickened three-layer mixing ribbon, and the upper, middle and lower three layers of the ribbon reverse intermingled design so that the material is mixed quickly and evenly!
Using 3-6mm steel thickness, with uniform hardness and wear resistance.
How does the ribbon mortar mixer work?
The drive spindle of the mixer is arranged with double-layer spiral blades internal spiral conveys the material to the outside, and the material forms a low-power efficient mixing under the convection movement of the double-layer spiral belt.
The parameter of ribbon mortar mixer:
| Model | Output | Mixing Cycle Time | Mixer Volume | Motor Power | Rotate Speed | Mixer Cylinder Dia. | Mixer Cylinder Length | Reducer | Overall Size | Weight | Floor Area |
| --- | --- | --- | --- | --- | --- | --- | --- | --- | --- | --- | --- |
| LD500 | 0.5t/batch | 3-5mins | 0.83m³ | 5.5kw | 24r/min | 840mm | 1.5m | Cycloidal | 2.8*0.95*1.8m | 1000kg | 2.52㎡ |
| LD1000 | 1t/batch | 3-5mins | 1.65m³ | 7.5kw | 24r/min | 1050mm | 1.9m | Cycloidal | 3.25*1.07*2.1m | 1300kg | 3.63㎡ |
| LD200022 | 2t/batch | 3-5mins | 2.48m³ | 11kw | 24r/min | 1200mm | 2.2m | Gearbox | 3.1*1.3*2.3m | 2200kg | 4.38㎡ |
| LD3000 | 3t/batch | 3-5mins | 4m³ | 15kw | 24r/min | 1400mm | 2.6m | Gearbox | 3.7*1.5*2.5m | 2400kg | 6㎡ |
Please note: All parameters are for reference only, please get in touch with us if you need accurate, detailed parameters.
Customizable ribbon mortar mixers
Various types of dry mortar mixers supply customized. In terms of shape, there are generally "O" type mixers, "U" type mixers, and gravity-free twin shaft mixers, and in terms of material, we support customization of 210 steel, 304 steel, stainless steel, etc.
We provide free 3D drawing design and support processing mortar mixers according to your drawings. Welcome to inquiry!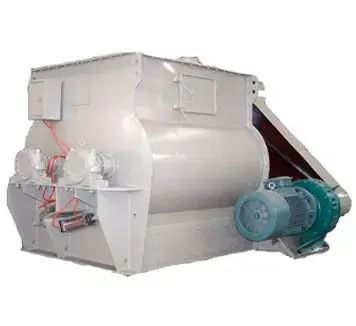 Double Shaft Ribbon Mortar Mixer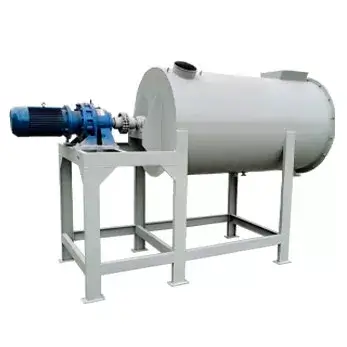 "O" Shape Ribbon Mortar Mixer
"U" Shape Ribbon Mortar Mixer
How do I pack and ship the ribbon mortar mixer?
The mortar mixers are packed in wooden boxes and shipped to your country by sea.
1. The ribbon mortar mixer is packed into a wooden box marked with the product's content.
2. We have a professional packaging team with many years of experience in shipping; they will pack the products very well so that they will not damage during shipping and can be easily unpacked after you receive them. You can see the picture below:
How to install the ribbon mortar mixer?
1. According to your site layout planning, put the multifunctional ribbon mixer host into the pre-selected place and assemble the legs.
Please note: When you choose the location of the mixing machine, you need to consider that the raw material storage area and the finished product storage area are more convenient for loading and unloading trucks. Reserve the equipment maintenance channel. General maintenance channel requirements for the width of 1 meter.
2. Generally, the size of the pit is 0.7m (length)*0.7m (width)*0.9m (depth), and the size of the pit will vary depending on the size of the spiral.
3. After the mortar mixer is in place, measure 0.95m outward from the centre of the feed port of the mixer, which is the edge of the screw conveyor hopper pit.
4. After the grease pipe is installed and the pit is dug, put the screw feeder into the pit.

The live case of the ribbon mortar mixer
The spiral ribbon mixer applies to a wide range of scenarios and can be flexibly matched with various equipment to create different production lines.
1. Spiral ribbon mortar mixer + feeding conveyor + valve bag packing machine, forming a simple dry mortar production line with output up to 5t/h.
2. Spiral ribbon mortar mixer+feeding conveyor+discharge conveyor+finish bin+valve bag packing machine, forming a semi-automatic dry mortar production line, with output up to 10t/h.
3. Spiral ribbon mortar mixer + raw material storage silo + feeding conveyor + upper bin batching + finish bin + automatic packing machine + steel frame, forming a fully automatic dry mortar production line, with output up to 15-20t/h.
How to choose the right motor for ribbon mortar mixer?
Choosing a motor for your ribbon mixer can be a simple task, or it cannot be easy. It all depends on what you need the mixer for and your budget.
The motor is the most important part of a ribbon mortar mixer. A motor should be able to handle the load you are putting on it, run for long periods without overheating and be quiet and smooth running. It is best to use a copper core motor.
Our copper core motors have the following features:
Pure copper coil
Adopt copper wire to ensure the motor's safe, stable and efficient operation. Adopt a special copper impeller to avoid pump rust.
High precision rotor
Intelligent finishing and dynamic balance debugging for smooth operation and extended service life
Breathable design
The back cover of the body adopts a breathable hollow design, enhancing the motor heat dissipation performance; the motor can be used for a long time.
Silent bearing
With the use of silent motor special bearings, up to 10,000 times the number of revolutions of strength, service life is several times the standard bearings.
Fully enclosed line box
The body uses a fully enclosed line box processing, 4 closed screws firmly tethered, leaving no gaps so that you can safely use.