Types of Dry Mortar Mixing Plant
The dry mix mortar manufacturing plant is highly flexible and customizable. Adding or modifying it will make the dry mix mortar manufacturing plant models different.
In this industry, we generally divide dry mix mortar plants into 3 types.
Simple and small dry mix mortar production line
Simple and small dry mix mortar production line for sale
As can be seen from the picture, this simple and small dry mix mortar production line comprises a feeding screw, a mixer, and a packaging machine.
The structure is simple, and the output can reach 30ton per day, which is very suitable for investors who are just starting the dry mortar business.
Semi-automatic dry mix mortar manufacturing plant
A semi-automatic dry mix mortar manufacturing plant means that additives must be added manually. In addition, the mixing and packaging systems are automated, and the entire dry mortar production line requires 4 workers.
As shown in the figure below, the output of the ordinary semi-automatic dry mix mortar manufacturing plant can reach 6t/h, while the improved one can get 12t/h.
Fully automatic dry mix mortar plant
The fully automatic dry mix mortar plant has a reasonable structure and high production efficiency, and the whole process is automated. Only 2-3 workers can complete the 20t/h production line. Automate weighing, dosing, and packaging to save you even more.
What Is Dry Mortar Mixing Plant?
Dry mix mortar plant can also be called dry mix mortar production line, dry mortar mixing plant, dry mix mortar machine, etc. It is a production line that can mass-produce dry mix mortar, consisting of a feeding system, mixing system, weighing system, packaging system, conveying system, etc. It is multifunctional equipment that can also mass produce decorative mortar and masonry mortar such as putty powder, tile adhesive, etc.
So what is a dry mix mortar? The dry mortar is a mix of cement, sand and water. It's used for many purposes in the construction industry like walling, flooring and ceiling, plastering etc. This mortar can be applied on masonry surfaces to make walls and floors. The dry mortar is also used to make concrete blocks or bricks in order to build houses or other structures.  Click here to continue reading.
Dry Mortar Mixing Plant
We support a variety of different models, semi-automatic types, the semi-automatic type output from 1t/h to 10t/h.
Fully automatic models, daily output of 20 tons, 30 tons, 40 tons, 50 tons, 70 tons, 100 tons, and more than 100 tons.
Meet your needs, there is always one for you!
The Component of Dry Mortar Mixing Plant
Raw material storage system of dry mortar mixing plant:
A storage silo is used to store large raw materials, such as cement, fly ash, sand.
There is often use 50 tons or 100 tons cement silo as raw material storage, generally using cement, fly ash, sand as raw material silo.
Cement, fly ash using tank truck feeding, sand using bucket elevator conveying to the silo.
For additive materials, it is added manually or automatically to the mixer depending on the amount of additive.
Whether the screw conveyor or bucket elevator has computer program control, can timely feed timely shutdown.
Sand drying plant system:
With sand dryer will damp sand drying, the drying system imported German "mosaic structure", three-cylinder sleeve design, save fuel & electricity more.
The sand drying plant is used for the larger dry mortar mixing plant, if you don't use a lot of sand, we recommend you buy finished sand.
Batching device for dry mortar mixing plant:
Weighing and measuring by the control system according to your set formula automatic feeding and weighing, automatic loading and unloading.
It can automatically measure different raw materials according to the formula, reduce labor intensity and environmental pollution, but also ensure the quality of dry mortar products.
Mixing system of dry mortar mixing plant:
The dry mortar mixer adopts a double-axis gravity-free mixing machine, large capacity bin, short mixing time, high capacity, high uniformity.
It will be mix again in the finished bin, at the same time, to make the material smoothly into the packaging system.
Packaging system of dry mortar mixing plant:
There are two ways of bulk discharging and bagging discharging.
The bulk discharging is generally more efficient and delivers directly to the construction site.
The bagging discharging is generally used by dry mortar manufacturers. There are two kinds of bags: open pocket and valve pocket.
It is used to recover dust in dry mortar mixing plants, which is beneficial to environmental protection.
Dust absorption spot is generally located at the top of the cement bin, the feeding port of the bucket elevator, and the filling machine.
Automatic control system:
Adopt an advanced PLC programmable control system, intelligent operation control, real-time display of the weight of each material, automatic correction drop.
Dry Mortar Mixing Plant Price
From the beginning of small to fully automatic dry mortar mixing plant, more and more advanced, the process is more and more mature, according to your site reasonable design and customization is our biggest advantage.
What is the dry mix mortar plant price? The cost of a dry mix mortar plant is determined by the following factors:
Type of the dry mix mortar plant
Capacity of the dry mix mortar plant
Budget of the dry mix mortar plant
Many customers recently asked, how much is dry mortar mixing plant, here especially want to remind you, different output with different prices; different configurations with different prices; different sites with different prices.
All dry mortar mixing plants need to communicate with you before designing and quotation. According to your site drawings, the dry mortar mixing plant configuration and quotation are finally determined.
We have the patience and confidence to design the most suitable scheme for you, which is responsible for you, but also responsible for us, our enterprise development and growth, rely on the machine quality, rely on the good faith, rely on after-sales service, today, just get so many customer support!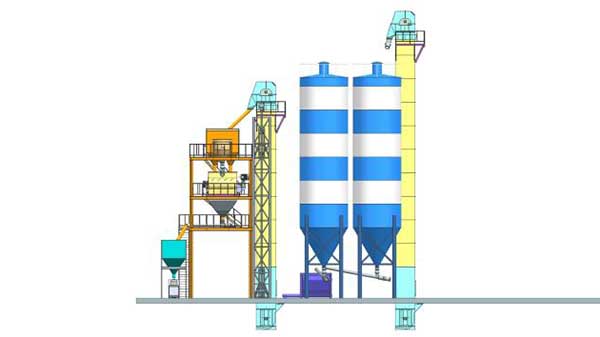 Dry Mix Mortar Manufacturing Process
This video can give you a better understanding of the dry mix mortar manufacturing process. You can see that the whole dry mix mortar manufacturing process is related to the raw material storage system, mixing system, packaging system, weighing system, control system, conveying system, etc.
How dry mix mortar plant works
How does a dry mix plant work?
The dry mortar mixing plant before formal work, to empty machine operation, and the conveyor, reducer, weighing system, bucket elevator, mixing machine, finished bin reducer, air compressor, etc. refueling. Ensure adequate lubrication capacity of the equipment.
Power on all devices and debug them one by one. Make preparations for production. When the elevator, air compressor, and dust collector are opened, the batching scale is opened to lift the prepared materials from the hopper to the pre-mixed hopper.
Start the dry mortar mixer, mixing for 3-5 minutes, then start the motor of the finished bin, open the valve of the mixer, and put the material into the finished bin for packaging.
Where To Buy The Best Dry Mix Mortar Machines At Reasonable Price?
The two largest manufacturing bases of dry mix mortar plants are in China and India, and Europe, such as Germany and the UK.
The dry mortar production line in Europe and the United States has a high degree of automation; precision can even reach 100%. Of course, the price is also costly.
China and India are developing rapidly in the manufacture of dry mix mortar machines, especially in China, the precision of the material can reach 99.8%. It is worth noting that its price is half of Germany's.
In China, the central city of Henan province is home to the leading dry mix mortar plant manufacturers, which is where China's dry mix mortar machine originated.
With the development of science and technology, the technology of dry mix mortar manufacturing is more mature, and the price of dry mortar production lines is more and more transparent.
We Furein Machinery has 15 years of experience in dry mix mortar manufacturing plant; each worker has a skill; choosing us can let you save more cost and provide you with an overall turnkey solution.
A strong technical team will always be your backing; when you encounter any dry mortar mixing plant problems, you can contact us, whether you buy machines from us or not.
What Kind Of Dry Mortar Can Produce By The Dry Mix Mortar Plant?
Wall plaster
Brick laying mortar
External plaster
Sand based internal plaster
Decorative render
Tile adhesives
Thin set mortar
Repair mortar
Water proofing mortar
Reinforced concrete
Hoint filler
Grouts
Floor screeds
Sound proofing
Bonding mortar
Wall putty
Gypsum based internal plaster
Renovation mortar
What Is The Dry Mortar Mixing Plant Capacity?
The capacity of dry mix mortar plant is 1 ton to 60tons per hour. You can calculate your daily output, monthly output and annual output according to the working hours, so as to get your dry mortar cost.
How Long Will It Take To Build A New Dry Mix Mortar Manufacturing Unit?
It is difficult to answer this question as it depends on many factors. These include:
The size of your dry mix plant (small, medium, or large).
The type of technology you want to use (low-tech, mid-tech or high-tech).
Where do you want to set up your plant (urban area, rural area, or coastal area).
Read this FAQ guide to learn more about dry mortars, their applications, and how to establish a proper dry mixing plant.
FAQ
Q: What is the cost of a dry mortar plant?
A: Our engineer can design the plant according to your requirements and budget; different dry mortar plant investments are different. We will provide cost-effective solutions to your low-capacity and low-cost needs.
Q: What will we offer you?
A: We can provide turnkey solutions for dry mortar plants, from working site planning to dry mortar machines, transportation, installation and training, the formula of dry mortars, after-sales services, lifetime technical support, etc.
Q: What is the capacity?
A: We have a dry mortar plant with a capacity of 1-100TH, and we can also customize the dry mortar plant to your capacity requirement.
Q: How long is the guarantee period?
A: 12 months; we provide free spare parts and services within this period.
Q: Are you responsible for installing the equipment?
A: We will send engineers to your country to guide the installation and train your workers to operate the machine.
Keep reading:
Contact us right now!