Dry batching concrete plant, for wet concrete batching plants, is named for the specific construction.
All raw materials (such as sand, broken stone, cement, etc.) are fed into the concrete mixing truck in a certain proportion, and the water that has been weighed is discharged into the mixing truck in accordance with the proportion, and it is mixing while transport until the worksite.
Furein supply 45m3/hr to 120m3/hr dry batch concrete plant, support custom, welcome inquiries.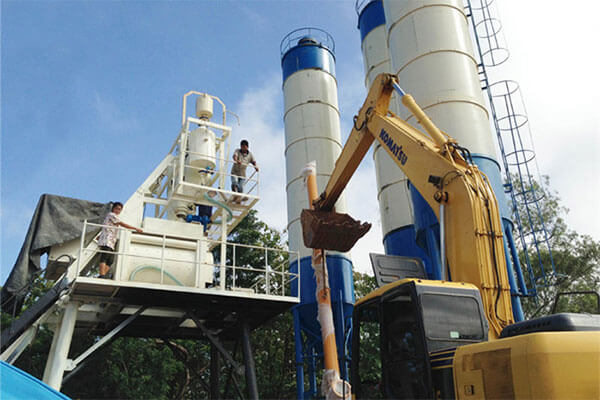 Dry Batch Concrete Plant Information Guide
What is dry concrete?
As the name suggests, dry concrete.
What's dry batch concrete plant?
Dry mix concrete plant is special mixing equipment, if you do not have such high-quality requirements for concrete, and far from the work site, then congratulations, you choose it.
Dry batch plant is to weigh the sand, stone, cement, etc., discharged into the chute, and then into the mixing car, you can add water (or additives) in the process of transportation side mixing. You could call it a concrete mixing plant in transit.
During mixing, the speed should be greater than 65 RPM. In this way, the material can be better combined and stirred more evenly.
It is worth noting that the dry mix batching plant, which does not contain any mixer, the mixing car is a mixing barrel, perhaps you can see on the road when you are careful.
Dry mix concrete plant advantages
The advantages of dry batch concrete plant:
Automatic weighing material, save labor.
If water is not available, dry stir during transportation.
Compared with wet concrete batching plant, higher yield and lower energy consumption.
Stirring while transporting saves time and is more efficient.
It can make the material mix fully and improve the quality of concrete.
The structure is strong and the heavy-duty operation is stress-free.
If your material storage site is far away from the construction site, then dry batch plant is your ideal choice.
Widely used, most suitable for large construction sites, construction projects, such as roads, bridges, chemicals, concrete plants, airports, hydropower, and other industries.
It can be transported to where you want by the container.
All frame design is in line with international standards, easy to replace wearing parts.
Installation is simple and Furein engineers can help you install dry mixing equipment.
Can be customized according to user requirements.
The whole operating system is easy to understand and very user-friendly.
Have a powerful brain – automatic control panel + control system + cab.
In addition to the above dry mix batching plant advantages, more advantages will make you excited:
Dry batch concrete plants do not have concrete mixers, which can save you a lot of money. You should know that a concrete mixer can increase your budget a lot, and the return on investment is relatively higher.
More suitable for sparsely populated, transport distance, so in the process of mixing can be based on the distance to add water, dry batch concrete plant all ingredients are the same as wet concrete batching plant, except water.
Fully automatic control cabinet enables the whole production line to maintain continuity and display on the whole screen.
Dry batch concrete plant although there is no mixer, in the process of transportation, it is very thorough mixing, without any mistakes.
All materials can be accurately weighed through the weighing system, weighing accuracy up to 99.8%.
Composition of dry mix concrete batching plant
Dry mix concrete batching plant is generally composed of the following parts:
Control system
Concrete batching machine
Raw material warehouse
Water metering
Weighing system
The cab
All materials are cumulative weighing and can be discharged at the same time.
All components can be customized according to the actual needs of the customer or depending on the local environmental requirements of the need for a dust collector.
All the details can be customized, please rest assured that we will not share your equipment or drawings with others without your consent.
Dry batch concrete plant without mixing system, therefore, suitable for more harsh environment, such as high temperature, long-distance transportation, etc.
How many types of concrete batching plants are there?
According to different production technology, concrete batching plant can be divided into dry concrete batching plant and wet concrete mixing plant.
What is wet concrete batching plant?
Compared with dry mix batching plant, the main work method is not the same, for wet mix concrete batching plant, weighing materials are put into the mixer, and then the mixed materials are transported to the mixer truck, directly used in the site. It is more suitable for short-distance transportation.
Because of the characteristics of concrete, in the process of transportation, the need for continuous mixing, to prevent concrete caking.
Contact us to get a dry mix concrete batching plant solution