Vertical baler machine is generally manual strapping, hydraulic cylinder, and compression from top to bottom.
It is bale waste paper, plastic, cotton, cardboard, straw, clothing, woven bags, and another soft compression packaging. Of course, it can also pack used tires, its small volume, convenient transportation.
Vertical baler machine pressure from 10ton to 120ton, output, and bale block due to the size of the machine. More pressure means you can pack bigger chunks.
Vertical baling machines are very suitable for small and medium enterprises, good quality and cheap.
Vertical balers for sale have two types single plunger and double plunger, if you have requirements, we can help you determine the most suitable model for you.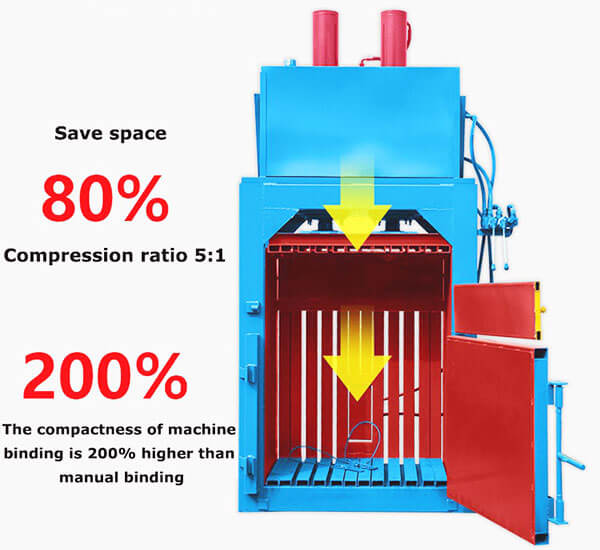 Popular Vertical Baler Machine For Sale
People sometimes like to call balers by materials, such as vertical cardboard balers.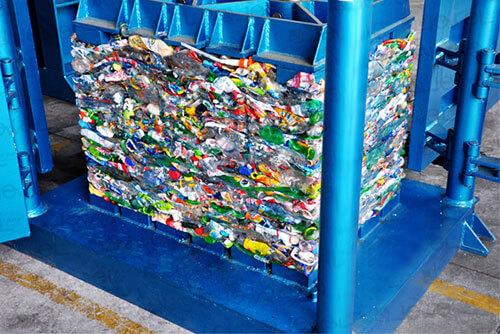 Vertical Pet Bottle Press Machine
Used to pack all kinds of waste plastic bottles, cans bottles, pet bottles, fuel tanks, etc., single-plunger and double-plunger plastic bottle balers can be customized according to customer needs.
Easy to move and operate. An automatic packet turning device can be added.
Good stability and durability.
Hydraulic drive, using the upper type cylinder.
Safety doors can be set up to keep workers away from danger.
Vertical Cardboard Baler
Suitable for all kinds of waste paper, waste paper boxes, waste cardboard, waste carton. It can also be called a waste paper baler, cardboard baler, carton compactor, etc.
Hydraulic transmission is adopted, and the cylinders are cross-installed. Because of the performance of the cardboard itself, double-plunger hydraulic cylinders are generally used.
The binding rope can be set up first, and after the cardboard is packaged into a block, the rope is manually tied.
Using an imported sealing ring, longer service life, Assemble emergency stop button in case of emergency, Emergency stop button to improve operator safety.
Types of Vertical Baler Machine
According to the pressure of the vertical baling press, it can be divided into 10tons, 20tons, 30tons, 40tons, 60tons, 80tons, 100tons, 120tons and customized type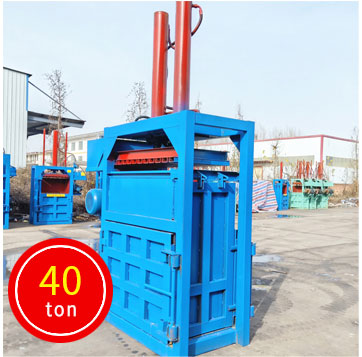 40ton vertical baler machine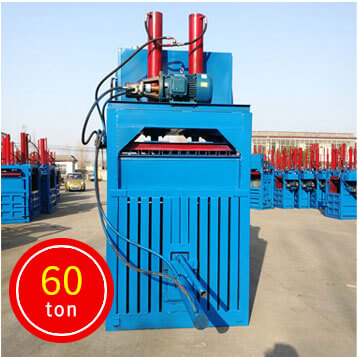 60ton vertical baler machine
80ton vertical baler machine
100ton vertical baler machine
Parameter of Vertical Baler Machine
| Model | Pressure | Power | Bale Size | Machine Size | Weight |
| --- | --- | --- | --- | --- | --- |
| FU-10 | 10kn | 7.5kw | 800*400*700mm | 1500*650*2600mm | 650kg |
| FU-20 | 20kn | 7.5kw | 800*400*700mm | 1500*650*2600mm | 800kg |
| FU-30 | 30kn | 11kw | 1000*600*800mm | 1700*850*2700mm | 900kg |
| FU-40 | 40kn | 11kw | 1000*600*800mm | 1700*850*2700mm | 950kg |
| FU-60 | 60kn | 15kw | 1100*750*900mm | 1600*1050*3000mm | 1450kg |
| FU-80 | 80kn | 18.5kw | 1100*750*900mm | 1600*1100*3100mm | 1750kg |
| FU-100 | 100kn | 22kw | 1100*800*900mm | 1700*1100*3100mm | 2000kg |
| FU-120 | 120kn | 22kw | 12300*800*900mm | 1700*1100*3300mm | 2400kg |
The above vertical baler parameters are for reference only, if you want to customize one, contact us.
Features of Vertical Baler Machine
A vertical baler machine in the compression of the material can completely maintain the physical characteristics of the material.
The ratio of material and package block is generally 5:1, which can save space to the greatest extent.
If the vertical baling machine compresses loose material, it can be covered with a bag after bale, such as the peanut baler machine.
PLC program, electric button control, vertical baling press one key operation completed, one-time package compression.
You can choose manual feeding or automatic feeding by belt conveyor, high automation, saving labor.
Bale size and voltage can be customized according to customers' reasonable requirements, according to different materials, package weight is also different.
Equipped with anti-rebound barb, to ensure maximum compression effect, simple operation.
Vertical baler using motor and pump direct connection, to ensure the concentricity, prolong the service life of the pump.
Vertical Baler Machine For Sale Price
Hydraulic vertical baling press machine as a new type of environmental protection equipment, vertical baler manufacturers are also more and more, FUREIN machinery as a local leading enterprise, with large workshops and advanced equipment. Vertical and horizontal balers can be customized for you. Know more about us.
As for the vertical baler machine price, please rest assured that we are the factory and will directly offer you the wholesale price to help you can save more.
For the installation of vertical baling machines, we will have engineers to help you with one-to-one guidance installation.
Vertical cardboard baler, waste plastic bottle compactor, construction waste baler, and crushing, you can contact us, we are always here.